I earned my Music Therapy degree and certification as a single mom of a beautiful 8 year old daughter in 1999. Since that time I earned NYS certification to teach Music K-12, provided MT and taught music in a public school, ran a business offering services to a local preschool while offering Private Piano and Guitar lessons. I left the preschool when my son was born in 2006 and continued to offer music lessons. I discovered passions for photography and jewelry making. I became a Wilton Certified Cake Decorating teacher and ran a business offering cake decorating lessons for a few years. Around that time I discovered Stand Up Paddleboarding.
The sound of the water and the birds. The sun and wind in my hair. The feeling of freedom and sometimes excitement and sometimes absolute stillness bring me back again and again. Stand Up Paddleboarding or "SUP" is my vitamin 'sea'. It's my moving meditation. I get to explore places few people can access. My mission is to share with you my love of the outdoors, the beauty of Long Island's North Fork, and all the amazing benefits stand up paddling has brought me. I want you to see how easy it is and how awesome it is! Also how much happiness and goodness it can bring to you and your life, as it has for mine.
I first tried SUP here in Mattituck in the summer of 2013. Since then I've explored every creek in the Peconic Bay from Orient to Riverhead, Flanders to Springs. My goal is to explore every waterway on Long Island! I paddle every chance I get no matter the season, knowing it will improve my strength, balance, and sense of well being. Realizing how great it makes me feel caused me to research why this is so. Over the years I have learned so much about why paddling is so good for you on every level, as well as technique for efficiency and how to be safe while doing so. There are so many science-backed reasons why Stand Up Paddling is good for you. YOU CAN LEARN MORE ABOUT THE BENEFITS OF SUP HERE: .http://kathypasca.com/?page_id=459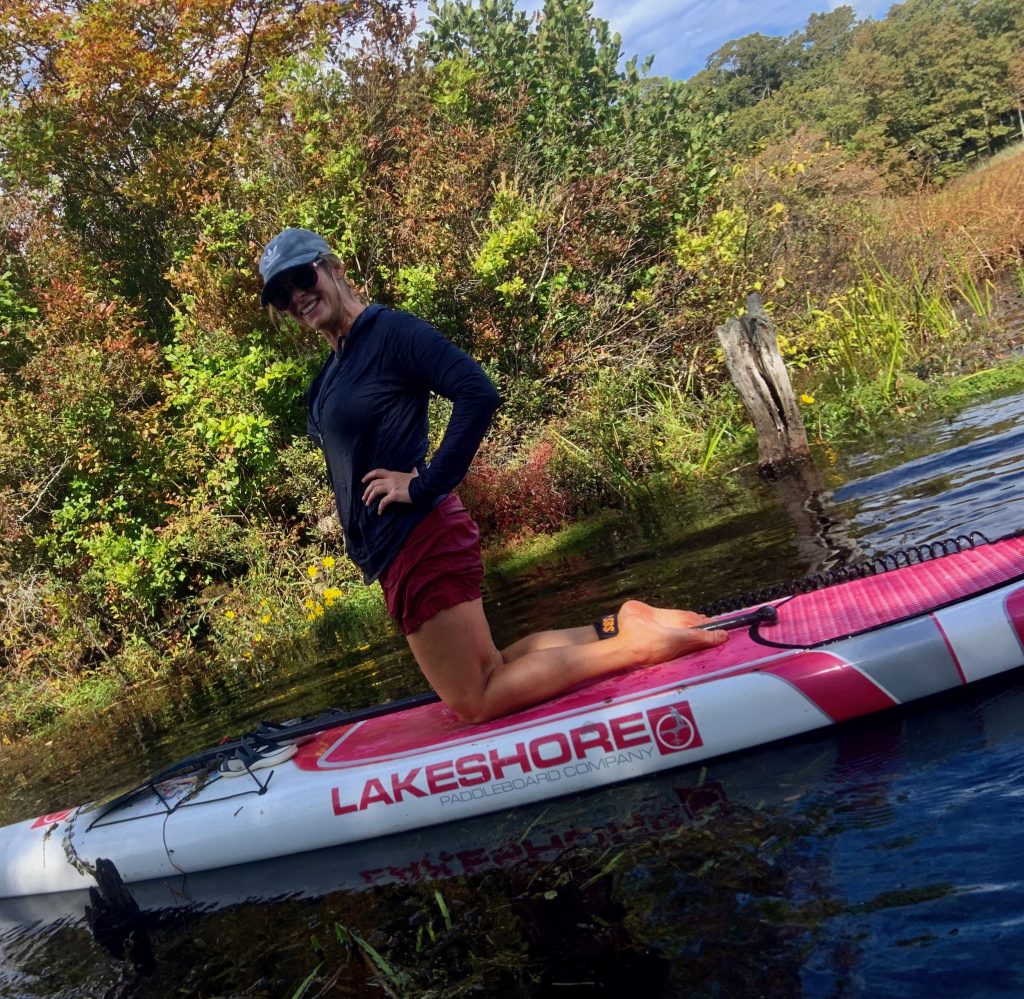 KATHY PASCA is a Professional Stand Up Paddle Board Association (PSUPA) Level 1 Flatwater Certified trainer and holds Red Cross First Aid/CPR/AED certification. She brings her experience as a Board Certified Music Therapist, NYS Certified Music Teacher, Certified Wilton cake decorating teacher, private piano and guitar teacher, 17 years of Yoga practice, and photography skills to teaching and leading SUP tours on the beautiful waters of Long Island's North Fork, one paddler at a time!
I'm a "multi-passionate creative". When I'm not out on the water, you can find me writing, reading, researching, or learning something new. I might be singing and playing piano, guitar or ukulele, or perhaps my sound bowls and tuning forks. I also enjoy taking photos of the beauty that surrounds me. I could also be at home gardening or caring for my son, husband and cat, Luna. Or perhaps creating something like a cake, floral arrangement or painting – my current love is paint pouring! In addition to Stand Up Paddleboarding, I also love biking and playing tennis, as well as practicing yoga!